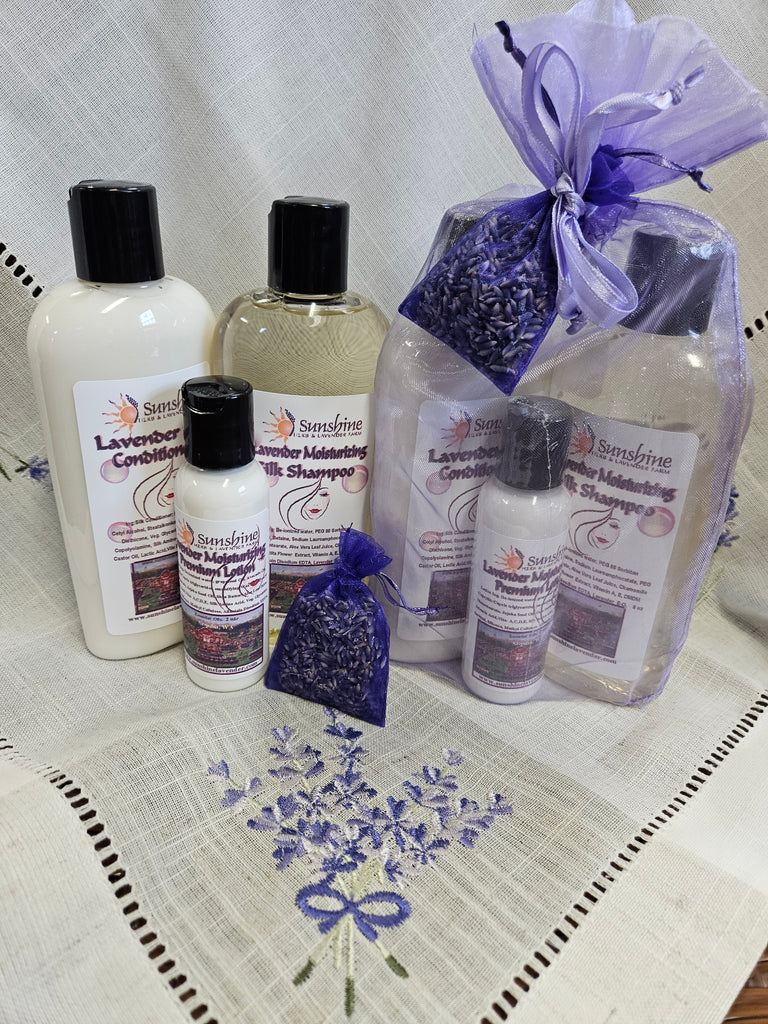 Lavender Silk Shampoo/Conditioner/Premium Lotion Gift Set
---
This is a wonderful gift pack for her. Our shampoo and conditioner are well known for softening and smoothing, leaving the hair feeling clean and manageable. Lavender Premium Body Lotion is an enriching and mild lotion for everyday use. She will love the velvety feel and pleasing aroma. The gift pack comes complete with a 8 oz size of the shampoo, conditioner, and a 2 oz lotion, as well as a lavender sachet packaged in a pretty lavender bag with a bow.
Shampoo Ingredients: Distilled Water, Peg 80 Sorbitan Lauride, Sodium Trideceth Sulfate, Veg-Glycerin, Aloe Vera, Soduim Lauroamphoacetate, PEG 150 Destearate, Chamomile Extract, V-A, C, D, E, Essential Oils.
Conditioner Ingredients: Distilled Water, Cetyl Alcohol, Stearalkonium Chloride, Dimehyl Stearamine, Dimethicone, Copolyolm, Hydrolized Silk Amino Acids, Quatermized Wheat Protein, Castor Succinate, Veg. Glycerine, Lactic Acid, Accid, DMDM disodium EDTA, Essential Oils.
Lotion Ingredients: De-ionized Water, Grape Seed Oil, Avocado Oil, Capric/Caprillic Triglicerides, Emulsifying Wax NF, Glyceryl Monostearate, Jojoba Seed Oil, Shea Butter, Aloe Leaf Juice, Stearic Acid, Vitamins A, C, D, E, Vegetable Glycerine Sorbitol, Silicone, Methyl Cellulose, Allantoin, Disodium, EDTA, Essential Oils, Diazolidinyl, Urea, Iodopropynyl.
---
Share this Product