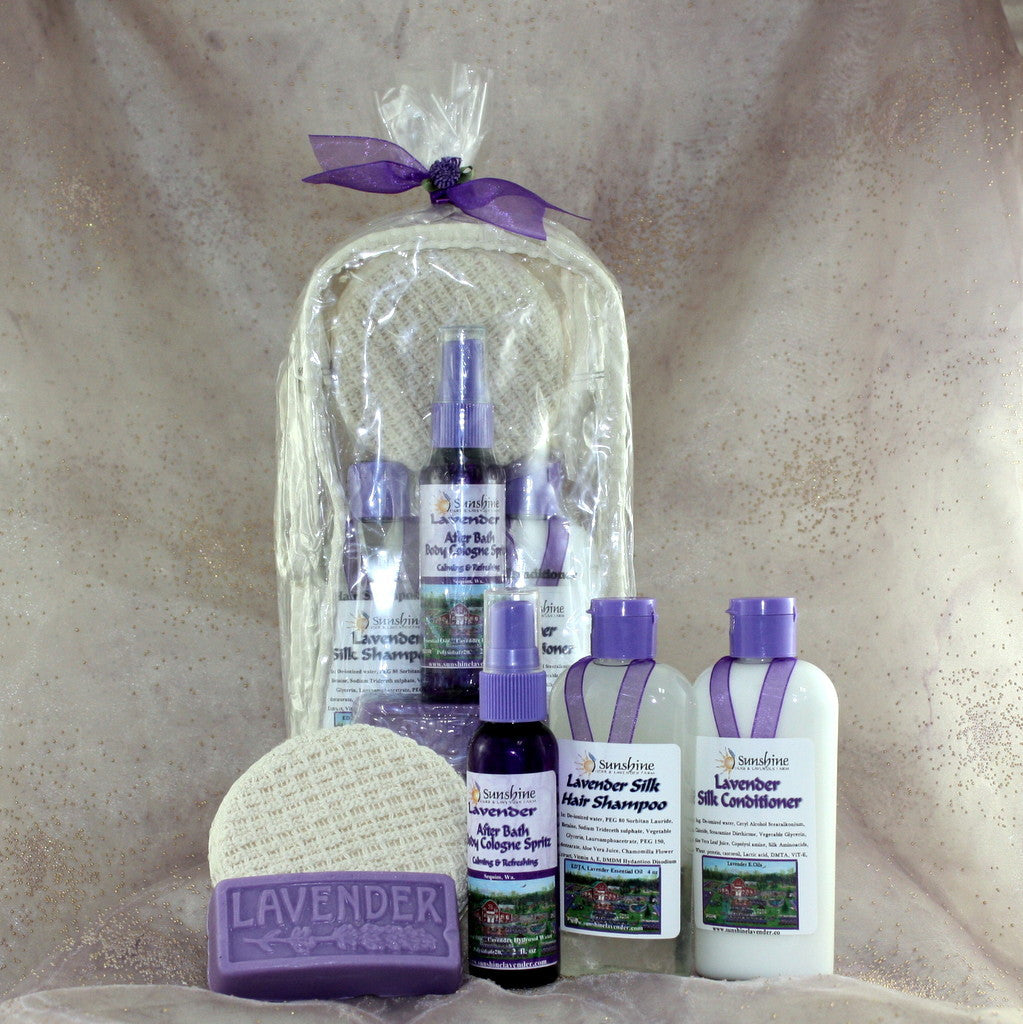 ---
Treat yourself or that special someone with a hair care/bath set conveniently packaged in travel sizes. Set comes with a our popular Lavender Silk Shampoo and Lavender Silk Conditioner in 4 oz. sizes, plus a full size Lavender Shea Butter Soap, a 2 oz. bottle of Lavender Body Spritzer, and a small cotton bath scrub all beautifully packaged in a handy zippered bag.
Lavender Silk Shampoo:This Shampoo has a great cleansing lather. It leaves your hair feeling smooth and clean. Ingredients: Distilled Water, Peg 80 Sorbitan Lauride, Sodium Trideceth Sulfate, Veg-Glycerin, Aloe Vera, Soduim Lauroamphoacetate, PEG 150 Destearate, Chamomile Extract, V-A, C, D, E, Essential Oils.
Lavender Silk Conditioner: A wonderful conditioner that softens without leaving the hair feeling heavy. Hair becomes very soft and manageable. Ingredients: Distilled Water, Cetyl Alcohol, Stearalkonium Chloride, Dimehyl Stearamine, Dimethicone, Copolyolm, Hydrolized Silk Amino Acids, Quatermized Wheat Protein, Castor Succinate, Veg. Glycerine, Lactic Acid, Accid, DMDM disodium EDTA, Essential Oils.
Lavender Shea Butter Soap: Shea Butter, Coconut Oil, Palm Oil, Castor Oil, Safflower Oil, Glycerin Vegetable Oil, Evening Primrose Oil, Aloe Vera Gel, Lavender Water, Soldium Hydroxide, Sorbitol, Soritan Oleate, Soy Bean Protein, Vitamin E, Vitamin E Oil.
---
Share this Product
---
More from this collection